It is Friday again and my son and I were pretty busy during the week. The most important thing however is that my husband is finally back home! He made it safe and sound and we picked him up at JFK Airport on Thursday evening. Now the world is a-okay again! My son and I were busy cleaning the house, doing laundry and went food shopping so I can cook something nice for my family. I just wanted everything to be perfect when he is back. It was the best feeling to be at the airport to pick him up. My son ran towards him and was so excited. I usually hate airports because there is always this weird mixture of anxiety, sadness and happiness that is present at ever corner. ("Valley of tears" – Frankfurt Airport). This anticipation when you stand in the arrival hall and wait and wait and people-watch and then out of a sudden the person you are waiting for comes out – priceless. Especially if it is my husband after all this time. Here are my five things I want to share.
Thinking about: The other day I was at Calf Pasture Beach with my son. We spent almost five hours there because it was nice and warm and he had a blast with a bunch of other kids building sandcastles and collecting shells. Ripka's Beach Cafe just closed when my son asked for "Pommes bitte" so I needed to find some food fast."Fast food" 🙂 My first thought was our favorite diner in Norwalk – The Post Road Diner. which never let us down. So we had been seated and waited for our food as an elderly well dressed woman walked in. The waiter directed her to her seat which was right behind us. She walked by and smiled at us; kept on walking and came back and stared at us. When I asked her if I can help her she started to cry and said that my son looks exactly like her son who died 20+ years ago. I told her to sit down with us and talk a bit. She ended up telling me the entire story always staring at my son. Then she got up and said: "Good bye Ben, I will see you again on the other side". Definitely my weirdest time at the diner.
Watching: The woman at the diner recommended to watch the movie: "Heaven is for Real" which I did and cried my eyeballs out. Very sad story about a near death experience of a little boy and you guessed right – he looks like my son. My mom recommended a movie on ARTE – "Zuhause in der Wildnis" which I loved. It is about a German woman who married a Native American. They have four kids and live in the wild of the Canadian Rocky Mountains in which seems total isolation and seclusion. The movie is in English/German but also available in French.
Reading: The usual. A ton. Now that three book houses started sending me books to review I am constantly seen reading. I love it so it is all good. Here are the books.
Order the books here: "If I fall, If I die" by Michael Christie, "American Housewife" by Helen Ellis (only pre-order. The book will be released in January 2016 and "M Train" by Patti Smith.
Enjoying: Life and my family.
Traveling: To Cananda next week. There is this really nice place in Quebec; quite some miles away from Montreal but sooooo worth it. Here is the link. The owners are renting completely furnished cottages at the waterfront. We spent the first couple of days there after my son was born. Yes, he is Canadian. 🙂 We stayed at the "Piccolo Cottage" which was an awesome experience. There is plenty to do here in Connecticut but to spend a couple of days at this beautiful place in Canada beats is all!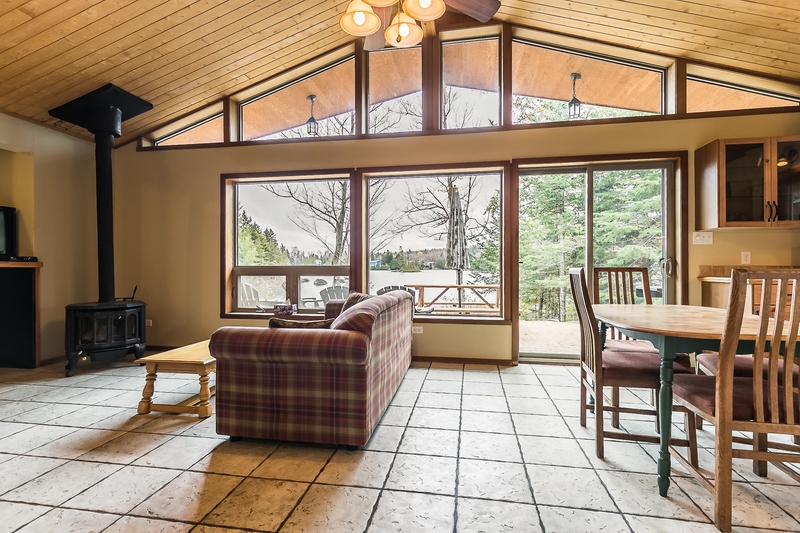 We stayed at the "Two Pines Cottage" when our son was five days old and woke up to this view every morning.
Thank you for reading and have a wonderful weekend.